The Mushroom learning center - coming 2024
We're building a campus! The Mushroom Learning Center will be a place for Mycology, discovery, and connection with nature. A visit to the Mushroom Learning Center will be a truly unique experience. Where else can you step foot in a mushroom lab and then take a peak into our fruiting chambers with over 20 varieties of mushrooms! Participate in kids STEAM programs, workforce development, or learn about growing mushrooms at home.
The commercial kitchen and refrigeration will allow us to work with other local farmers to reduce food waste, create new products, increase farm profitability, and provide high quality foods to our local community.
We need your support to bring these amazing programs to life!
LEARN MORE
Plantify The World
Our mission is to 'plantify' the world. We strive to build restorative, sustainable systems that work in harmony with nature. Society has been disconnected from the land and the source of our food. That is evident in the 108 BILLION pounds of food wasted every year, high rates of obesity and preventable diseases.
The tides are turning and it's time to cultivate ecosystems that feed the local community and the economy while using minimal natural resources and contributing to the health and wellbeing of the earth and all its inhabitants.
Discover the unique culinary potential and health benefits of gourmet mushrooms grown right on your kitchen counter. Just spray your kit and watch it grow!
How to Start Your 'Grow Your Own Mushroom Kit'
---
Why Grow Your Own Gourmet Mushrooms?
Most of the food we eat isn't grown close to home. In fact, the produce at your local grocery chain travels over 1,500 miles on average. Not only is that hard on the environment, the further your food travels, the less nutritious and flavorful it is.
Specialty mushrooms like Oyster and Lions Mane have short shelf lives and they are easily damaged in transit. Therefore, they won't be found at most grocery stores. Grow Kits make it possible to have these unique mushrooms fresh at home with zero effort. Just cut, spray and harvest!
Pink oyster
Pink Oyster (Pleurotus Djamor)
Pink Oysters thrive in warm weather, producing beautiful clusters of pink to near red mushrooms that are a favorite with chefs and at farmers' markets. The color intensifies when they grow with adequate light!

Difficulty: Beginner
Texture and Flavor: Meaty with an umami flavor reminiscent of something from the sea.
BLUE OYSTER
Blue Oyster (Pleurotus Ostreatus)

Blue Oyster mushroom kits are the easiest of all of our Grow Kits. They are very reliable producers and tend to yield large flushes of mushrooms and should reliably produce a second flush or more of mushrooms.
Difficulty: Beginner
Texture and Flavor: Soft chewy texture with a mild, nutty, seafood-like flavor. Hint of anise aroma.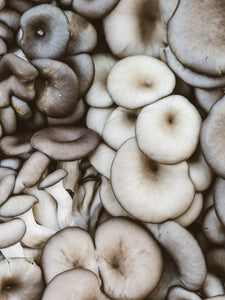 GOLDEN OYSTER
Golden Oyster (Pleurotus Citrinopileatus) are high in protein and fiber, and antioxidants and they are a good source of potassium, and vitamins B2, B3, and B5. Delicious roasted in the pan with garlic, butter (or vegan butter) and fresh herbs, golden oysters take on a nutty flavor with a velvety texture.
Golden Oysters are very easy to grow. They are very reliable producers and tend to yield large flushes of mushrooms and should reliably produce a second flush or more of mushrooms.

Difficulty: Beginner
Texture and Taste: Soft and velvety, flaky texture. Balanced, nutty flavor similar to cashews.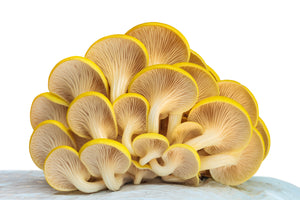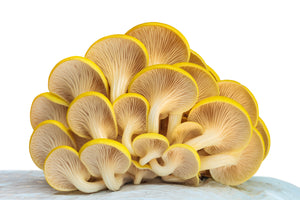 Lion's Mane
Lion's Mane Mushrooms (Hericium Erinaceus) are a unique fungi with teeth that grow long like hair, giving the mushroom its signature look and name. A great vegan substitute for crab or lobster, the lion's mane is know for its brain boosting benefits.
Lion's Mane can be eaten fresh, dried, powdered, or extracted into a tincture. Traditional Chinese Medicine (TCM) is one of the oldest cultivation and uses of mushrooms for health purposes, leaning on Lion's Mane to fortify the spleen, nourish the gut, and for the cancer-fighting, brain boosting, mood balancing effects.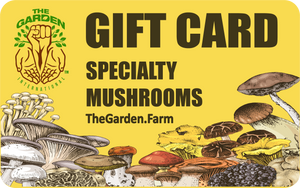 Education
---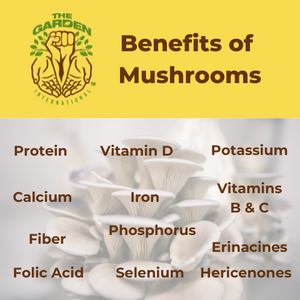 Mushrooms like Lion's Mane and Oysters are considered specialty culinary mushrooms. There are many health benefits to eating specialty mushrooms. It's important to cook your mushrooms for about 15 minutes...